NEW DAY / NEW VENUE / NEW LOOK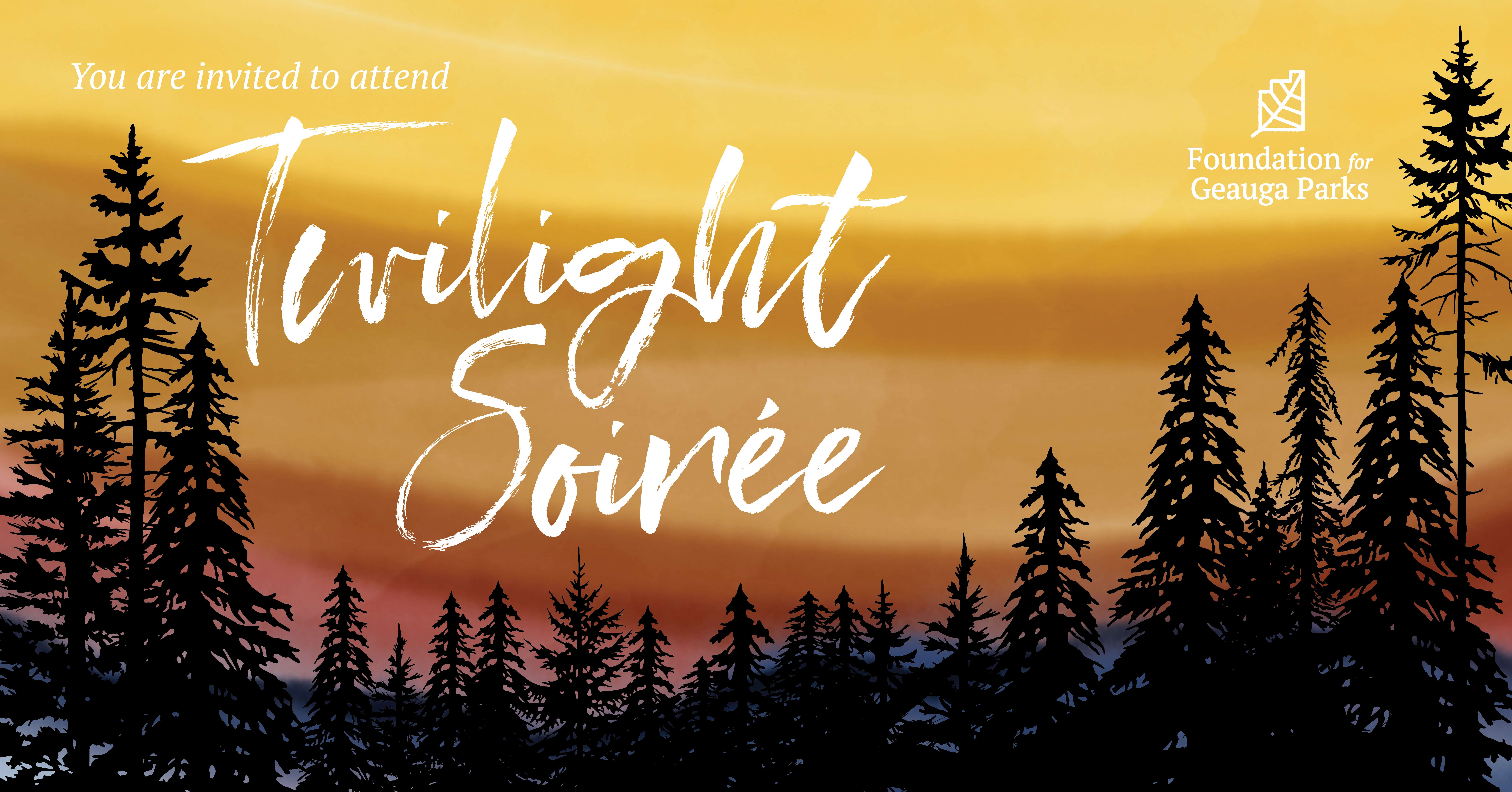 The Foundation for Geauga Parks announces the return of Twilight Soiree, a magical evening event that includes dinner and drinks, live music and socializing with others who share an interest in protecting and conserving Geauga County's unique, natural resources and providing world-class nature education to our community.
This year, FGP will be hosting the event on a new day, at a new venue, and is unveiling a new "look," designed by Deanna Sukalac of Rose Gold Studio.
2023 Twilight Soiree
Friday, August 18, 2023 5:30 - 9:00 p.m.
Meadow Ridge Events
17305 Mayfield Rd.,Huntsburg Twp.
Tickets are available now at https://bit.ly/FGPTwilightSoiree
Join us for:
• Live music from Jim and Denise (members of No Moss)
• Full buffet dinner catered by The Smith
• Wine, beer and non-alcoholic beverages
• Live & Silent Auctions with nature-themed items and experiences
This year the Soiree will be held in the beautiful bucolic setting of Meadow Ridge Events, located on Mayfield Road, just east of 528. Meadow Ridge is given 5 stars by The Knot and described as "Simple Elegance." This stunning 80-acre property is ideal for events amongst nature, and guests experience a relaxed but elegant atmosphere.
Proceeds from Twilight Soiree directly impact our support of land conservation, park improvements and nature education in Geauga County.
We are grateful to the following: 2023 Annual Business Partners: Preservation Partner - Auxin Group Wealth Management; Conservation Partner - Rosenthal | Henry Capital Advisors; Sustainability Partners - Mary Beth O'Neill | Keller Williams Greater Cleveland Northeast and Patterson Fruit Farm Twilight Soiree Event Sponsors Silver - Richard and Christie Frenchie, Geauga Feed & Grain, Junction Auto Family, Middlefield Banking Company, Barry and Marcia Owen. Bronze - Burton Station Fixture Company, Linda L. Brown, Ph.D. LLC, Honest Scales Recycling, Marsh Valley Forest Products, O'Reilly Equipment, US Windows Doors and More. In-Kind - Design Bridge Studios, Casey Forbes and Signe Wrolstad-Forbes, POV Solution, Rose Gold Studio, Taproot Yoga.
The Foundation for Geauga Parks an independent 501(c)3 nonprofit that raises funds to support all parks in Geauga County, be they county, township or municipal parks. Established in 1990, the Foundation's work and mission have been greatly responsible for some of Geauga County's transformational success stories in land conservation and nature education. It is the only nonprofit dedicated exclusively to raising money to support parks in Geauga County. For more information, contact the Foundation office at 440-564-1048, admin@foundationforgeaugaparks.org or explore www.foundationforgeaugaparks.org
---