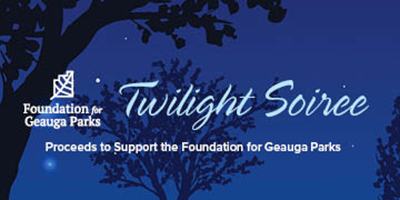 The Foundation for Geauga Parks Board of Trustees, out of an abundance of caution for the well-being of our supporters and friends, have made the very difficult decision to cancel our signature fundraising event, Twilight Soiree, which was originally scheduled for Saturday, August 22, 2020 at Veterans Legacy Woods in Newbury Township.
Things have changed globally because of COVID-19, but one thing that remains a priority is keeping our families healthy and safe. Because of this, our parks in Geauga County have never been more relevant as individuals and families visit the parks to maintain their physical and mental health.
The Foundation for Geauga Parks remains committed to funding park improvements and nature education initiatives. Twilight Soiree is the Foundation's single fundraising event, through which all proceeds support its mission to fund community engagement with nature through education, preservation, conservation and appreciation of the unique natural character of Geauga County.
In lieu of event tickets, the Foundation for Geauga Parks requests that unrestricted donations be made at https://bit.ly/FGPDonation.
All Twilight Soiree Sponsors are being upgraded to Annual Business Sponsors. To learn more about the Sponsorship program here.
The Foundation is grateful to the following partners: John W. Rosenthal Capital Management, Sheoga Hardwood Flooring and Paneling and others who wish to remain anonymous.
The Foundation for Geauga Parks an independent 501(c)3 nonprofit that raises funds to support all parks in Geauga County. Established in 1990, the Foundation's work and mission have been greatly responsible for some of Geauga County's transformational success stories in land conservation and nature education. For more information, contact the Foundation office at 440-564-1048, admin@foundationforgeaugaparks.org
---