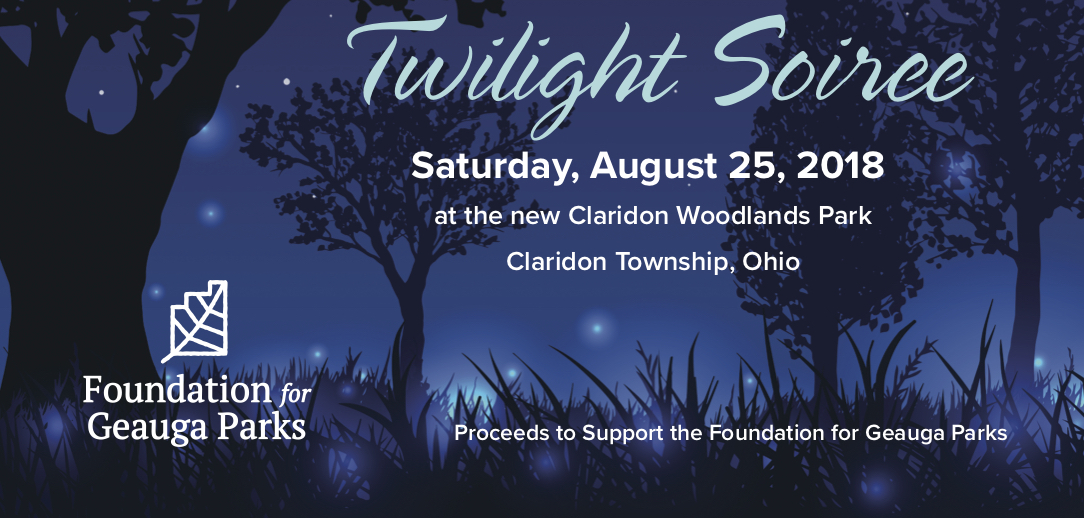 Tickets are on sale now!


When: August 25th, 5:30pm - 9:30pm
Where: Claridon Woodlands Park, Chardon, Ohio
About the Event
Twilight Soiree is the Foundation for Geauga Parks' key fundraising event. Proceeds support our work to benefit a variety of natural and educational initiatives in Geauga County.
Guest will enjoy:
​Live music by the Real Deal String Band
Rescued Raptor presentation by Harvey Webster of the Cleveland Natural History Museum 
Appetizers, dinner, dessert, and an assortment of beverages including beer and wine
Interactive displays highlighting the night skies, Geauga County trails, native pollinators, and Nature Scopes
Best of Geauga County Gift Basket Raffle (valued at more than $1,000)

'Thank You" gift bags for each guest
Silent Auction items include:
Private night sky viewing party at Nassau Station



Prothonotary Warbler banding experience with Geauga Park District naturalist


Private trail ride with legendary Geauga County horse trainer, Rich Bradshaw


Naturalist led hike at "off limits to the public" Welton's Gorge



Dinner at Lowe's Greenhouse owner Jeff Griff's private gardens


Behind the scenes Geauga County experience courtesy of Naturevation


Naturalist led birdwatching hike 


Framed nature photo and photography lessons with Dave Chew photography



Painted Sap bucket by famous local artist Bob Kolcum
Framed nature photo by local artist Jim Trombo
Tickets $100 on sale now!


---